Celebrating Sydney's Urban Farms – Parklands Food fest 2020 returns
Published: 27 August 2020 at 10:44 am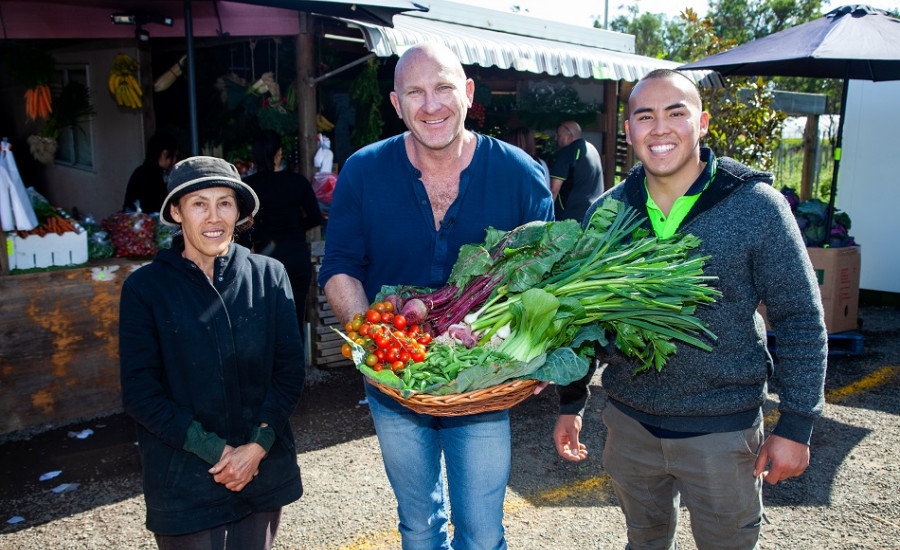 How do you turn a delicious food festival virtual? Australia's largest urban park – Western Sydney Parklands – will be attempting just that when it hosts the return of its popular Parklands Food Fest via a virtual kitchen this September.
Parklands Food Fest 2020 will return Saturday 5th September with celebrated chef and Blacktown boy Matt Moran streaming live from the Parklands' Virtual Kitchen to cook up six of his favourite recipes with ingredients straight from western Sydney's urban farms.
Sydneysiders will also be able to enjoy the most important part of the event, the food, by ordering a produce box of ingredients from the Horsley Park farms with everything you need to cook along with Matt.
Attracting crowds of more than 10,000 in 2019, organisers of Western Sydney's premier food festival are excited to celebrate the local produce grown across the region's 12 urban farms with an even bigger online audience.
People from all over Australia can tune into Matt Moran's two free cooking classes on Facebook Live on Saturday 5th September at 11am and 1pm. Executive Chef Travis Harvey of food rescue charity OzHarvest will also make a special guest appearance to help raise much needed funds to supply food to communities in need, plus share some tips for reducing food waste at home.
Online orders for the delicious boxes go live today and include all the ingredients needed to cook up Matt's favourite dishes including:
Roasted Cauliflower with Anchovy Burnt Butter
Barbecued Lamb Cutlets with Chimichurri
Matt Moran's iconic Barramasalata with Potato Crisps
Delivered directly from farm to door, the produce boxes by Western Sydney Parklands' Lizard Log Markets will be priced at $55 or $90 (inclusive of fish and meat to feed four people) and come with recipes. Box numbers are limited, so keen cooks should get in early.
Matt Moran says he is excited to share his recipes and support for local farmers with a bigger audience this year beyond Greater Sydney:
"I'm thrilled to be hosting Parklands Food Fest 2020 this year. While we all love the atmosphere at a food festival, I'm excited to share my passion for cooking with even more people online", said Matt Moran.
"My mission for the day is to get more people to recognise the value of local produce, support their local farmers, as well as having fun in the kitchen and learning some new recipes. I encourage anyone who loves to cook to join me - put your cooking skills to the test and recreate these amazing recipes for your friends and family".
Suellen Fitzgerald, Chief Executive of Greater Sydney Parklands said:
"Parklands Food Fest is an important annual celebration of our local urban farmers and the fresh produce grown right in the heart of Western Sydney Parklands. We're excited that this year's Virtual Kitchen creates an opportunity to reach new audiences beyond Greater Sydney and showcase our beautiful Parklands".
Parklands Food Fest 2020 will also shine a light on OzHarvest's incredible efforts to support food relief across Australia. Viewers can make donations on the day.
"The partnership between OzHarvest and Parklands Food Fest is a highlight for us. Every year in Sydney we save 3,000 tonnes of food from ending up in landfill and make sure it gets to people in need - that's around 9 million meals," said Richard Watson, OzHarvest State Manager NSW.
"This food festival is a great reminder to us all to acknowledge the food that we have and help those in need. We hope that Travis' cooking tips will inspire Australians to fight food waste at home."
For more information on Parklands Food Fest head to www.westernsydneyparklands.com.au/foodfest
To order a produce box please visit: www.westernsydneyparklands.com.au/produce
About Parklands Food Fest 2020
WHAT: Parklands Food Fest Virtual Kitchen Cook with Matt Moran
WHEN: Saturday 5th September 2020
WHERE: Livestream via Western Sydney Parklands Facebook
WHO: Matt Moran and Travis Harvey
TIMES:
Cooking show #1 'Farm to plate' (40min) – live-streamed – 11am
Cooking show #2 'Waste not, want not' (40min) – live-streamed with Travis Harvey – 1pm
PRODUCE BOXES: Produce boxes can be ordered pre or post event at www.westernsydneyparklands.com.au/produce.
Those ordered in advance will be delivered the day before the event.
About Western Sydney Parklands Urban Farms
As Australia's largest urban park spanning 27 kilometres and 5,280 hectares, Western Sydney Parklands is home to 12 urban farms which carry on the strong tradition of farming in the Horsley Park region, growing a variety of fresh fruit, vegetables and flowers that are available to the public at their farm-gate stalls and supply some of Sydney's largest markets.
Five per cent of the Parklands has been allocated for urban farming under the Parklands Plan of Management. There are currently 12 urban farms growing seasonal produce like zucchinis, tomatoes, cucumbers and flowers for markets, cafés and food trucks. Continuing to support on a local level, Western Sydney Parklands accommodates a wide range of uses including Sydney's food bowl by offering local farming opportunities. It is currently calling for farmers to apply for new land leases in the Horsley Park agricultural area spanning 100 hectares in the heart of the Parklands.
According to research by the Institute of Sustainable Futures at the University of Technology, Sydney, Sydney's total food production could shrink by 60 per cent by 2031.1 Researchers estimate the benefits of Sydney's agriculture to the economy is upwards of $4.5 billion a year.1 Urban farming in the region has offered a pathway for new migrants to Australia, enabling family farming traditions to be carried on and connecting the community with fresh local produce.
Western Sydney Parklands Trust's updated Plan of Management 2030 includes a suite of environmental measures including emission reduction, water, waste and greening by 2030. The Horsley Park Urban Farms Master Plan will have a staged delivery of farm gates, market gardens, connected cycleways, cafes and restaurants and educational experiences.
Media contact: Rebekka Wake - 0407 235 104