Current projects
Relocating Wylde Mountain Bike Trail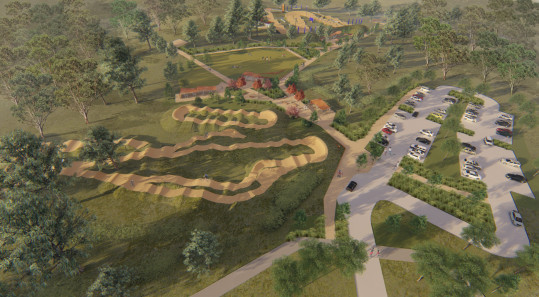 Western Sydney Parklands is working closely with the M12 Motorway Project team on relocating the Wylde Mountain Bike Trail (MTB) which is moving with the introduction of the new motorway.
Wylde MTB is a significant recreation facility in the Parklands and provides a huge expanse of green space which offers a range of exciting experiences and challenges from beginners to advanced riders.
The new design builds on the success of the current Wylde MTB and will include:
Increased length with 12 separate feature trails running over an estimated 12+km
A pump track designed to be the largest track in Australia
Trail sections traversing through scenic bushland areas
Increase in family facilities including picnic shelters, car parking and new tree planting
View the new trail designs here.
The current Wylde Mountain Bike Trail may require partial closures but will remain open until the new trail is complete by the end of 2021. The Trust will attempt to minimise disruption to riders during this time.
For more information read our Frequently Asked Questions.
Shale Hills dog park, West Hoxton
Our new off-leash dog park will feature an agility course and sensory garden designed with dogs in mind!
Work on the dog park will incorporate the construction of a new roundabout, entranceway, access road and car park around the intersection of Second Avenue and Mannow Avenue.
Construction work is now complete including a new roundabout at Mannow and Second Avenue. Opening of the dog park is planned for Saturday 22 February 2020, allowing the new lawn, plants and trees to be ready for visitors.
Roundabout construction works and traffic control to start on 11 November 2019
Construction hours: Monday to Friday, 7am–6pm and Saturday, 8am–5pm
Trucks and machinery will be on-site during the construction works
Road signs will be in place to direct traffic as required
Note: Shale Hills is part of the southern area of the Parklands in the Liverpool Local Government Area. This section is earmarked for some amazing and innovative changes over the next 30 years.
Abbotsbury walking and cycling track
The Abbotsbury Precinct, in the centre of the Parklands, takes in Lizard Log, The Dairy, Calmsley Hill City Farm and Plough and Harrow.
We've proposed a walking and cycling track to connect Calmsley Hill City Farm and Plough and Harrow East.
Research and planning to identify the best location for the track – in consultation with the community – will continue in late 2019. Construction will begin in 2020.
Bungarribee Park, Doonside
Bungarribee is perfectly placed to be a recreational and entertainment hub for Western Sydney. We've spent $15 million on facilities at Bungarribee so far and work is continuing alongside the construction of the nearby Sydney Zoo site.
We've created a fabulous new playground, BBQ and picnic facilities, walking and cycling tracks, and all the essentials like toilets, car parks, sealed roads and shade structures.
Current work: A nature play area near the creek line, new amenities building and more picnic and BBQ facilities is now open.
We've also been planting new street trees along the Great Western Highway between the M7 and Eastern Creek at Bungarribee, in partnership with Blacktown City Council and Roads and Maritime Services. The trees are established and as well as providing instant shade they will help 'green' the highway.
The next stage of our tree planting project will be complete in 2020.
Northern Parklands tracks

We've been upgrading the network of cycling and walking tracks in the parklands for a few years now – it's a big job! We're currently working with Blacktown City Council to improve the Nurragingy Precinct at Glendenning.
Here we are developing a new wetland system – a habitat for local wildlife that will also filter stormwater coming in to the Parklands.
There's also a new track and boardwalk over the wetlands. It will be 3.5m wide and span the distance from Power Street to Woodstock Avenue, along the western side of Eastern Creek across from Nurragingy Reserve.
Construction of the track is now complete. The wetland and boardwalk are in the planning stages now and we are hoping to start construction in 2020.