Learn how to grow food anywhere with the Little Vegie Patch Co.
Published: 28 August 2017 at 12:00 am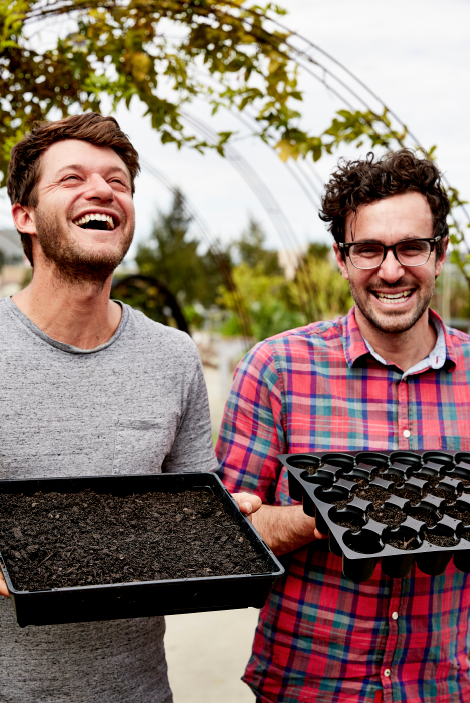 Discover the art of growing your own edible garden when Little Veggie Patch Co's Mat Pember and Dillon Seitchik-Reardon share expert knowledge from their new book Grow. Food. Anywhere in free gardening workshops at Parklands Food Fest on September 9.
No matter what your level of experience, Mat and Dillon prove that it's never been easier to grow your own food – and you don't have to move to the country to do it.
Little Veggie Patch Co workshops will provide a comprehensive guide to growing fresh, local, nutritious produce, regardless of the size of your patch.
Mat and Dillon will explain the secrets to wicking beds (garden beds that draw water up from a source below), share tips for vertical growing, discuss which plants will provide you with the most fruit and veg and show you the best plants for indoor growing.
"We can't wait to help celebrate one of Australia's most vibrant food festivals and share our passion for food with thousands of likeminded people.
"Food is such a common thread for all of us, helping to define us and bring us together. The reason we grow our own is because we want to share that experience from the beginning to the end. And while lack of space and time seem to deter a lot of people, it's actually never been easier to grow amazing produce from your own home", said Mat.
Mat Pember founded The Little Veggie Patch Co in 2008 and has since become Australia's best-selling gardening author and a regular contributor to Gourmet Traveller, Herald Sun, and Slow. Mat makes edible gardening relevant and accessible to everyone, especially those living in the city. His ability to convey knowledge in an inspirational, fun and meaningful way is thoroughly entertaining.
Dillon Seitchik-Reardon has a background in environmental science and joined forces with Mat in 2012 to set up Pop Up Patch on the rooftop of Melbourne's Federation Square carpark which became a wildly successful community garden and events space. Together with Mat, he has helped to reshape the way the world thinks about urban gardening. He was a collaborator on previous Little Veggie Patch Co titles including 1-Minute Gardener and co-authored DIY Garden Projects.
Parklands Food Fest is a free community event, now in its sixth year. Its Home Grown theme celebrates the best of Western Sydney's food and drinks businesses. The festival will be held at Lizard Log Amphitheatre, Abbotsbury on Saturday 9 September (10am- 4pm) with free on-site parking.
Parklands Food Fest highlights include more than 50 food stalls, the Parklands' own fresh farm produce, live music, cooking demonstrations by leading food personalities, gardening workshops, a huge range of kids' entertainment, our Home Grown Microbrewery Marquee offering a variety of locally-brewed craft beers, presented by Sydney Beer Week and the brand-new Sweet Spot which will be serving a selection of glorious desserts including artisan gelato, crème brulee, churros, macarons, sweet crepes, waffles and much more.