Parklands Food Fest 2020 goes virtual with Matt Moran
Published: 17 August 2020 at 9:00 am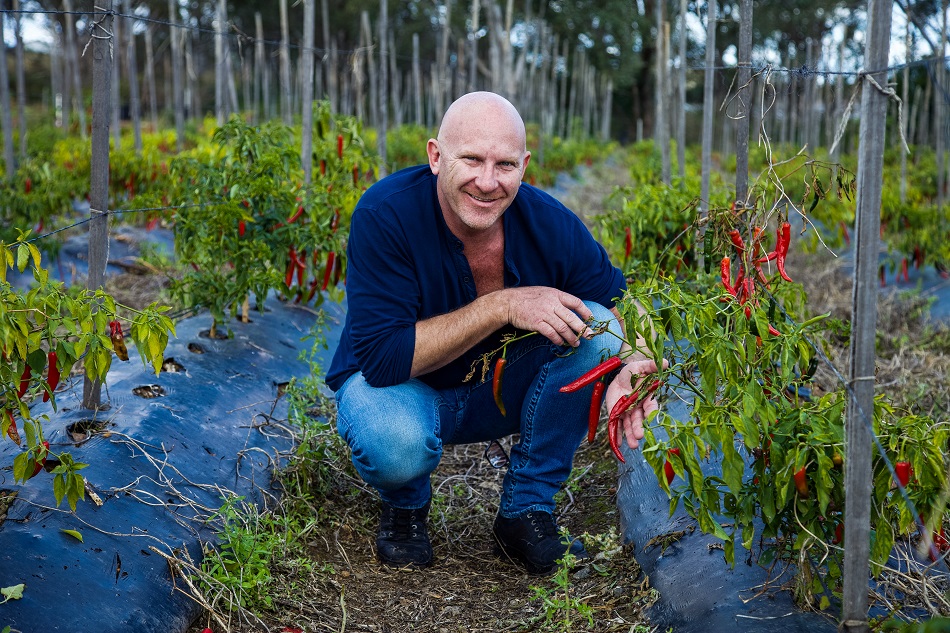 If there's one virtual event to tune into this spring, make it Parklands Food Fest.
Now in its ninth year, Western Sydney's premier food festival is taking its much-loved event fully online for the first time as it streams two free cooking shows with celebrity chef Matt Moran from Parklands Food Fest's virtual kitchen via Facebook Live on Saturday 5th September 2020 at 11am and 1pm.
In this unmissable free event, food lovers will have a rare opportunity to cook along with Matt, from the comfort of their homes. Matt will demonstrate how to cook some of his favourite dishes from 'paddock to plate', including 'barramasalata' and roasted cauliflower with anchovy burnt butter, using fresh produce straight from Western Sydney Parklands' urban farms.
Parklands Food Fest 2020 will also shine a light on food waste as OzHarvest's Travis Harvey makes a special guest appearance to show how creativity in the kitchen with food scraps can reduce overall household food waste.
Suellen Fitzgerald, Chief Executive of Greater Sydney Parklands said:
"We're excited to be offering Parklands Food Fest in a new and innovative way this year. More people will have the opportunity to experience our beautiful Parklands and urban farms by taking up the challenge to cook along with Matt Moran, from anywhere in the world, as part of this virtual festival.
"We're also proud to be partnering with OzHarvest to raise funds for the vital work they do to reduce food waste and provide food for those in need."
As Australia's largest urban park spanning 27 kilometres and 5,280 hectares, Western Sydney Parklands is home to 12 urban farms which carryon the strong tradition of farming in the Horsley Park region, growing a variety of fresh fruit, vegetables and flowers that are available to the public at their farm-gate stalls and supply some of Sydney's largest markets.
"This year's virtual event is a chance for Sydneysiders to stop and think about where their food comes from, and embrace the incredible produce grown right here in Sydney's biggest backyard," said Matt Moran.
"Knowing where my produce comes from and how it is grown is core to my relationship with food. For many of us living in the city, we can lose that connection. This is a chance to reconnect and support our local farmers."
Participants of Parklands Food Fest will also be able to donate to OzHarvest on the day to help support food relief across Australia.
"OzHarvest is delighted to be working with Parklands Food Fest again for the third year. Although we won't be able to see people face-to-face this year, we hope to inspire everyone watching with our Executive Chef, Travis Harvey's fantastic cooking demo to help you fight food waste at home," said Richard Watson, OzHarvest State Manager NSW.
"Every year in Sydney we save 3,000 tonnes of food from ending up in landfill and make sure it gets to people in need - that's around 9 million meals. We can't rescue food from people's homes, but we can help people to reduce their own food waste at home, we are all part of the solution."
For more information on Parklands Food Fest, please visit: www.westernsydneyparklands.au/foodfest.
About Parklands Food Fest 2020
WHAT: Parklands Food Fest Virtual Kitchen Cook with Matt Moran
WHEN: Saturday 5 September 2020
WHERE: Livestream via Western Sydney Parklands Facebook
WHO: Matt Moran and Travis Harvey
TIMES:
Cooking show #1 'Farm to plate' (40min) – live-streamed – 11am
Cooking show #2 'Waste not, want not' (40min) – live-streamed with Travis Harvey – 1pm
About Western Sydney Parklands Urban Farms
Western Sydney Parklands is Australia's largest urban park spanning 27 kilometres and 5,280 hectares. Five per cent of the Parklands has been allocated for urban farming under the Parklands Plan of Management. There are currently 12 urban farms growing seasonal produce like zucchinis, tomatoes, cucumbers and flowers for markets, cafés and food trucks. Continuing to support on a local level, Western Sydney Parklands accommodates a wide range of uses including Sydney's food bowl by offering local farming opportunities. It is currently calling for farmers to apply for new land leases in the Horsley Park agricultural area spanning 100 hectares in the heart of the Parklands.
According to research by the Institute of Sustainable Futures at the University of Technology, Sydney, Sydney's total food production could shrink by 60 per cent by 2031.*Researchers estimate the benefits of Sydney's agriculture to the economy is upwards of $4.5 billion a year.
Urban farming in the region has offered a pathway for new migrants to Australia, enabling family farming traditions to be carried on and connecting the community with fresh local produce. Western Sydney Parklands Trust's updated Plan of Management 2030 includes a suite of environmental measures including emission reduction, water, waste and greening by 2030. The Horsley Park Urban Farms Master Plan will have a staged delivery of farm gates, market gardens, connected cycleways, cafes and restaurants and educational experiences.
*References
1. Institute for Sustainable Futures, UTS, 2015-2016, Sydney's Food Futures, http://www.sydneyfoodfutures.net/interactive-maps/#
---
Media contact: Rebekka Wake - 0407 235 104