Record crowds feast at Parklands Food Fest 2019
Published: 9 September 2019 at 12:00 am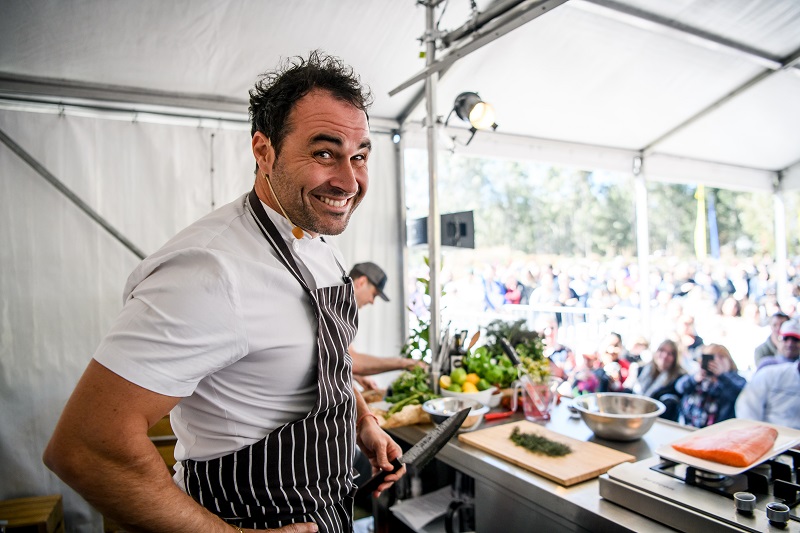 Parklands Food Fest returned to Lizard Log, Abbotsbury in Western Sydney Parklands for its eighth year on Saturday 7th September with record crowds of almost 10,000 feasting on delicious homegrown produce from more than 40 food and market stalls.
Celebrity chefs Miguel Maestre and Anna Polyviou were a massive hit, taking to the stage throughout the day to create recipes inspired by fresh, local, seasonal produce from the Parklands' own urban farming precinct in Horsley Park. Miguel Maestre certainly lived up to his name as "The Crazy Bull" while creating a huge, made to share paella which left the crowd eagerly wanting more. Onlookers were equally as entertained by award-winning pastry chef, Anna Polyviou who created a party atmosphere and extraordinary sweet treats too with her delicious pavlova and "cheesecake mistake" creations.
A few daring audience members munched on "Bug Girl" (Skye Blackburn's) edible insects and learnt how to make the most of their produce from OzHarvest Executive Chef, Travis Harvey.
Local heroes and Thai-Lao food stars Tona and Ketty Inthavong of Green Peppercorn restaurant in Fairfield and Blacktown had their hands full as they made the trip back and forth from their restaurants as their food sold out three times over.
Visitors from across Western Sydney and beyond took advantage of the stunning spring weather and explored, tasted and purchased beautiful fresh produce across a stellar lineup of delicious international and local cuisines.
If the kids weren't listening to the Lenny and The Ants story telling sessions at the OzHarvest pop-up, they were having fun in the dedicated Kids' Zone, featuring rock climbing, an animal farm, a circus playground and face painting, and wrapping up celebrations at the kids' disco by the live entertainment stage.
For the latest updates on everything that's going on in Sydney's Biggest Backyard, visit our website and sign up to our quarterly Parklands News.
www.westernsydneyparklands.com.au