Spoil your best friend at Woof-fest with 50+ doggie stalls!
Published: 24 May 2017 at 12:00 am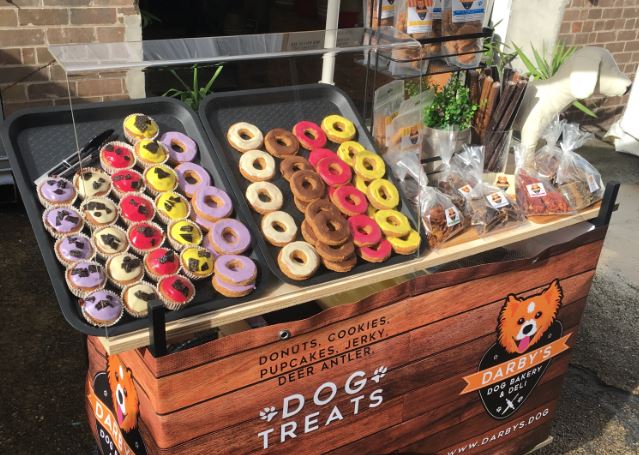 With more than 50 fabulous doggie-themed stalls, Western Sydney's most popular event for dogs and their humans, Woof-fest 2017 is the paw-fect place to spoil your pooch and score some great deals on the latest canine products and services at Warrigal Run in Bungarribee Park on Sunday 25 June from 9am to 1pm. 
Woof-fest is a fun, free, community festival for all ages, with something special to offer every size, shape and breed of dog– from doggie toys, food, clothes, equipment, health and grooming products, doggie merchandise as well as information stalls and services. 
Treat your best friend to mouth-watering snacks from Darby's Dog Bakery and Deli including a selection of hand-made jerkies (kangaroo, tuna, venison, duck, chicken) and oven-baked cookies including angus beef and veggies, carob-chip and liver and muesli. 
Dogs will also go barking mad for the popular Domuts, delicious donuts made from dog-friendly ingredients including chicken liver and beef with peanut butter or cream cheese, carob and chicken liver flavours. 
For fashion-forward pooches there's doggie boutiques offering the latest designer clothes including hoodies, beanies, bandanas, pj's, jumpers, coats, bow-ties, collars, leads and harnesses from Hamish McBeth, Haus of Harley, Runway Pooch, The Nomads Dog, Sonia's Pet Coats and The Sophisticated Pet, plus designer kennels by Kumfi Kennels and Omlet Australia. 
You'll can also pamper your pooch with a remedial massage from qualified Canine Myofunctional Therapist Deb's K9 massage; receive expert grooming from Leanne's Passion Pet Salon or have them pose for a portrait with expert Pet Photographers. 
There's everything you need to care for your dog's health with Discount Pet Meds offering popular brands that assist in flea and tick prevention, heartworm, intestinal worms, dental health, ear care, skin and wound care, joint health and vitamins. 
Other highlights include: talks by vet Dr Peter Higgins and Australia's leading dog behaviourist and author Laura V, training tips from Farmer Dave Graham and animal trainer Ryan Tate, cooking demonstrations by Naoko Okamoto from Chew Chew Pet Restaurant, Sydney Psychos Fly-Ball champions, Siberian Express All Breeds Sled Dog Club NSW, Search for the Next SuPaw Model dog fashion parade, free you-and-your-pooch face painting, 101 Dalmatians Jumping Castle, portraits by Caricature artist Peter Byrne, information stalls from RSPCA and a visit from Gulliver the giant 4-metre travelling guide dog who helps raise awareness for Guide Dogs NSW/ACT. 
Be sure to arrive early and visit the Pet Barn stall to receive your complimentary showbag with vouchers and a free gift. 
Entry to Woof-fest is FREE for dogs and their humans. FREE parking is available on site. 
Warrigal Run is located within Western Sydney Parklands. Entry is via the intersection of Holbeche and Doonside Roads, Bungarribee.