New proposed Abbotsbury track
The Abbotsbury Precinct, in the centre of the Parklands, takes in Lizard Log, The Dairy, Calmsley Hill City Farm and Plough and Harrow.
A new walking and cycling track track to connect Calmsley Hill City Farm and Plough and Harrow East was first identified in the Western Sydney Parklands Plan of Management in 2010. This link is the final section of track to be delivered within this part of the Parklands to provide the much-needed continual walking and cycling connection from Lizard Log to Plough and Harrow via The Diary.
The project was first initiated in 2015 when the Trust prepared a Landscape and Linking Plan for the Abbotsbury Precinct. With funding now available to deliver this missing link, the project has recently been restarted.
During community consultation undertaken during 2015 and 2016, there was general support from the community for the new track. There were also concerns raised from residents directly adjacent to the Parklands around potential anti-social behaviour, privacy considerations and potential noise impacts to their properties.
The Parklands have addressed these concerns in the latest concept design by proposing a revised alignment which provides a greater buffer space to these adjacent residential properties, and incorporates landscaping treatments including new tree planting, signage and fencing.
5 kilometre track for pedestrians and cyclists connecting Calmsley Hill City Farm with Plough and Harrow East designed to take advantage of the great natural views across the Western Sydney Parklands to Sydney CBD
Extensive planting of native trees, shrubs and grasses
The track will be fenced on either side where it passes through Calmsley Hill City Farm
The track is delivering on a key management priority for the Abbotsbury Precinct outlined in the Western Sydney Parklands Plan of Management 2030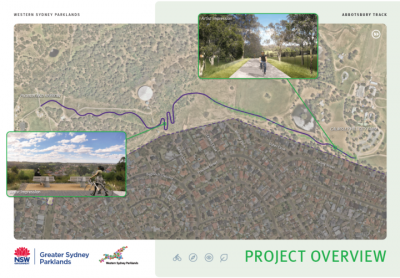 Map of proposed Abbotsbury track Download the map
24 April 2021: Community consultaion at Calmsley Hill City Farm
1 May 2021: Community consultaion at Plough and Harrow East
May 2021: Conclude community and stakeholder consultation
May – June 2021: Detailed design will be undertaken
Second half of 2021: Commencement of construction
Early 2022: Construction completed and track open for the community