Lizard Log Kids Trail Map
A Bringing Back the Bush Initiative
Explore the trails and facilities at Lizard Log with our Kids Trail Map. This map is perfect for kids and families to use and visit areas that hundreds of school kids have explored in our Bringing Back the Bush excursions. At Lizard Log there are plenty of trails to explore on foot or bicycle. You can play in the playground, have a picnic and BBQ, listen and look for creatures that live in the freshwater dam, climb a hill with a view and see how the native plants students planted are bringing back the bush.
Lizard Log is an important place for plants and animals native to the Cumberland Plain Woodland. This woodland once covered a vast majority of Western Sydney and is now recognised as an Endangered Ecological Community. Kids are helping to bring back the bush of this area by planting native plants in our school excursions here. As we bring back the bush, more native animals will return to Lizard Log.
Our students also drew pictures of their time at Lizard Log that have contributed to this map. Can you spot the kids drawings?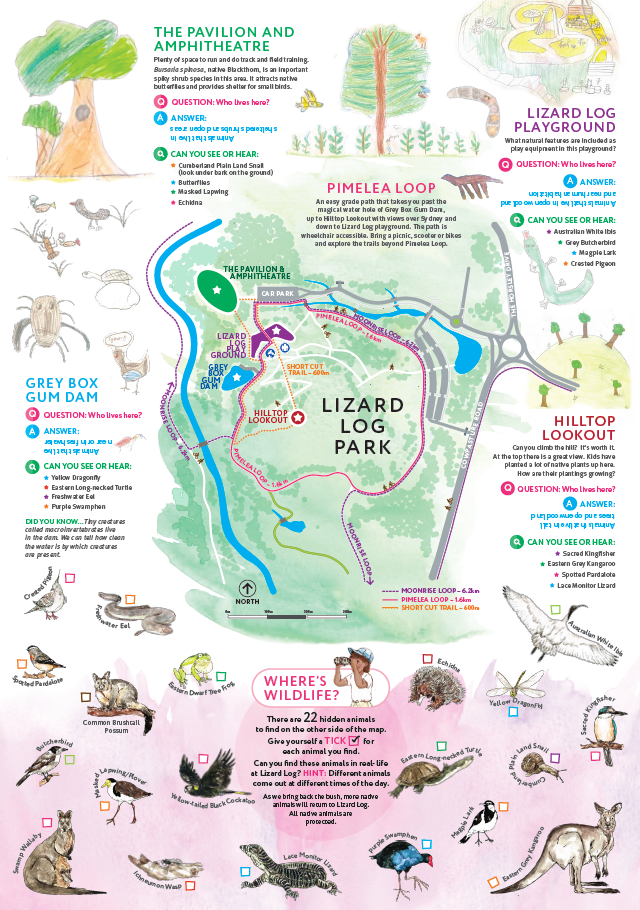 Download the Lizard Log Trail Map
Come and visit Lizard Log with your downloaded map and discover the beauty of this natural area.
Look for some of these animals at Lizard Log
Helpful apps and websites to identify and record native animal sightings: