Celebrate the sights and sounds of our parklands.
Published: 30 March 2021 at 3:03 pm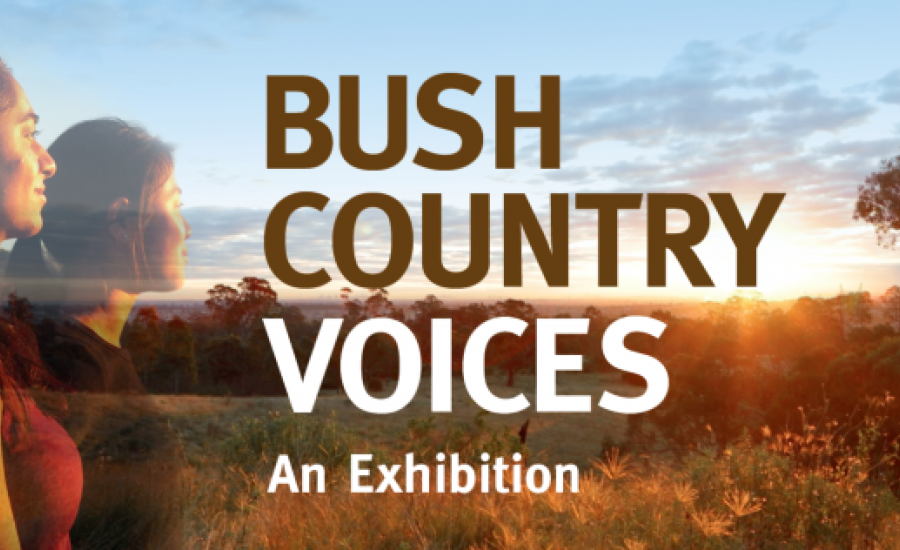 Casula Powerhouse Arts Centre (CPAC), Western Sydney Parklands and City People have come together to present Bush Country Voices, an immersive audio-visual experience coming to CPAC's Marsden Gallery from 6 April – 9 May.
Filmed in the Cumberland Plain bushland of Western Sydney Parklands (part of Greater Sydney Parklands), Bush Country Voices is a multi-screen video projection that invites audiences on a journey into nature, where Darug and Gundungarra Country meet.
Bush Country Voices was inspired by a group of artists – including First Nations and Western Sydney practitioners - who lived on-site at Western Sydney Parklands as part of an artists in residence program in March 2020 to explore and creatively respond to the landscape around them.
"We're thrilled to bring the majestic sights and sounds of Western Sydney Parklands to CPAC as part of Bush Country Voices," said CPAC Director Craig Donarski. "Featuring multi-screen projections, paired with an incredible soundtrack, the exhibition allows audiences to experience the natural ambience of the landscape in a truly unforgettable way."
On April 9, CPAC will host an in-depth conversation between artists, environmental experts and urban planners to celebrate the launch of Bush Country Voices. This discussion will reflect on the opportunities for artistic collaboration in public open green space and speakers will share their own personal and professional experiences in this field.
Greater Sydney Parklands Chief Executive Suellen Fitzgerald said "Our parklands are rich in stories and significance, first and foremost as Country for Australia's First Nations people. Bush Country Voices draws on the Parklands' incredible cultural heritage and environment as well as local knowledge and memories shared from our diverse Western Sydney community. I encourage everyone to come along and enjoy this unique immersive experience."
In conjunction with the exhibition, Western Sydney Parklands is offering a program of nature-themed activities for kids and adults during the April school holidays. All activities take place at Lizard Log in Western Sydney Parklands, Abbotsbury and are led by a team of experienced Education Rangers.
Bush Country Voices was produced by CuriousWorks, with music by James Peter Brown and features the voices of Paul Glass, Djon Mundine, Leanne Tobin, David Kirkland, Marian Abboud, David Capra, Anna Kuroda and Michael Cohen.
Join our launch event, 6-9pm, Friday the 9th of April.
Event Details:
Bush Country Voices exhibition
When: 6 April – 9 May (exhibition) / Friday 9 April (in-conversation)
Where: Casula Powerhouse Arts Centre, 1 Powerhouse Road, Casula NSW 2170
Price: FREE
Bush Country Voices school holiday programs
When: 8th, 12th and 15th April
Where: Lizard Log, Western Sydney Parklands, Abbotsbury
Price: Kids $5, Adult $10
For tickets and further information visit www.casulapowerhouse.com
Stay up to date through: www.facebook.com/casulapowerhouse

EDITOR'S NOTES
Casula Powerhouse
Located on the banks of the Georges River, the Casula Powerhouse is a multi-disciplinary arts centre. Showcasing six galleries and featuring a range of permanent and temporary exhibitions, the Casula Powerhouse is a premier art space in South West Sydney. Boasting a 321-seat theatre, Casula Powerhouse plays host to a range of theatre and cinematic productions each year.
Liverpool City Council
Located in South West Sydney, Liverpool City Council governs 42 suburbs with residents from a range of different cultures and ethnic backgrounds. The Council is dedicated to supporting the community by providing high levels of facilities and resources and to establish Liverpool as "the vibrant regional city of opportunity, prosperity and diversity."
Western Sydney Parklands
Western Sydney Parklands is proudly part of Greater Sydney Parklands, a new city-wide parks agency bringing together some of Sydney's most iconic parks: Centennial Parklands (including Moore Park and Queens Park), Western Sydney Parklands, Parramatta Park, Callan Park and Fernhill Estate.
Greater Sydney Parklands is championing the NSW Government's 50 Year Vision for Sydney's Open Space and Parklands, which is expanding open spaces and parklands across Sydney, to create a 'city within a park'. Greater Sydney Parklands currently manage 6,000 hectares of open space and attracts 40 million park visits each year!