Students plant over 140,000 trees to grow 'green legacy' in Sydney's Biggest Backyard
Published: 26 November 2019 at 10:41 am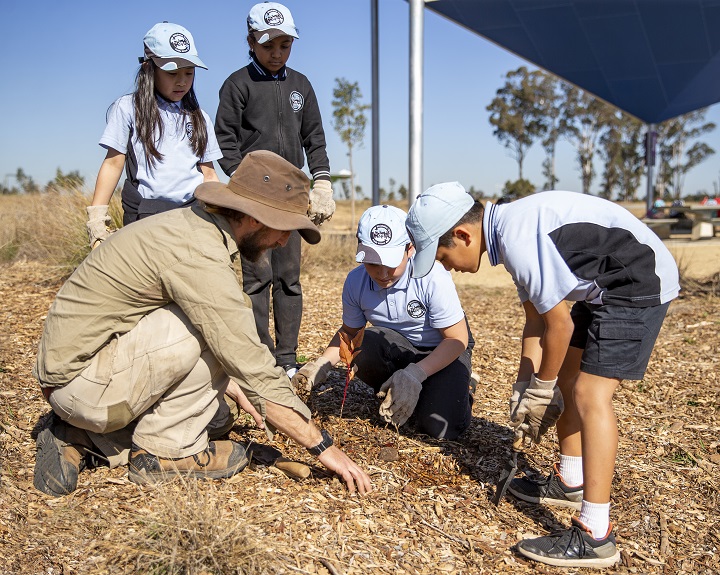 School children are bringing back the bush in Sydney's West, planting over 140,000 trees to grow a greener future in Western Sydney Parklands.
The planting is part of the Parkland's Bringing Back The Bush replanting program to restore critically endangered Cumberland Plain Woodland that once thrived in Western Sydney.

Now in its eighth year, 593 schools across Sydney have joined in the successful program with 20,000 children planting around 143,000 new trees since 2011.
The Parklands is the largest urban park in Australia, spanning 27 kilometres across 5,280 hectares – almost the same size as Sydney Harbour.
Since the Parklands Trust was established in 2008, $8.5 million has been spent on environmental conservation and improving biodiversity.
Western Sydney Parklands Executive Director Suellen Fitzgerald said planting trees is a great way to connect children with nature and their communities.
"Planting a tree can often be a child's first opportunity to make a difference and help the environment," Ms Fitzgerald said.
"It's a wonderful opportunity to grow their own green legacy by joining in a vital regeneration effort so they can be part of the Parkland's future in years to come.
"Every year we invite children to return to check on their seedlings and enjoy the wonder of nature as their plants continue to grow.
"We thank all our wonderful students for giving their time to make this important program so successful. By helping rejuvenate our beautiful bush we are increasing the range of native plants and wildlife that reside in the Parklands."
The Bringing Back The Bush program is part of the Parkland's commitment to long-term future sustainability including doubling its bushland corridor to 2000 hectares by 2050.
To find out more about the Parkland's visit: www.westernsydneyparklands.com.au
Media contact:
Claire Thompson, Communications Officer – 0450 830 137