Construction begins on Wheely Big Bike Hub
Published: 29 June 2021 at 12:03 pm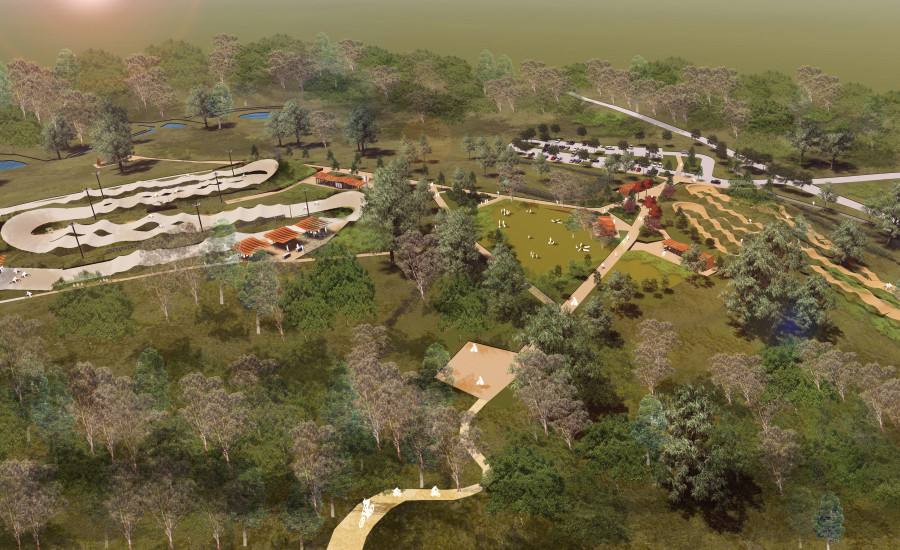 Construction has started on Australia's largest combined BMX and mountain biking hub in Western Sydney Parklands, which will host national competitions and become a major sporting hub in Western Sydney.
Minister for Planning and Public Spaces Rob Stokes said the $13.5 million, 86-hectare Wylde BMX and Mountain Bike Facility was being delivered by the NSW Government and Liverpool City Council and led by the new Greater Sydney Parklands agency.
"Mountain bikers and BMX riders will soon be enjoying the biggest pump track in the Southern Hemisphere, which has a looped sequence of rollers and swoopy turns designed to maximise momentum," Mr Stokes said.
"Western Sydney Parklands is fast-becoming Sydney's most-loved cycling and biking hub with it's incredible 60km network of tracks and trails. And with this stunning facility as an addition, I have no doubt it will attract people from all over Sydney and the whole of Australia."
Minister for Transport and Roads Andrew Constance said the new Wylde facility will be an improvement on the original facility, which attracts more than 30,000 visitors annually.
"When plans for the M12 were drawn up it created an opportunity to build a bigger and better Wylde facility and a new adventure precinct within the parklands," Mr Constance said.
"Drivers will be getting better road connections to Western Sydney Airport and park users will be getting the best community bike facility in the country."
Minister for Jobs, Investment, Tourism and Western Sydney Stuart Ayres said the sporting hub would further enhance leisure and lifestyle options for residents of and visitors to Western Sydney.
"This facility is a welcome addition to the mix of sporting and outdoor activities in Western Sydney and yet another example of our region getting it's fair share of investment upgrades to important community facilities," Mr Ayres said.
Liverpool City Council Mayor Wendy Waller said it would become a unique destination in the heart of southwest Sydney.
"We're thrilled to be partnering with Greater Sydney Parklands on this wonderful new community asset, which will allow the return of BMX racing to Liverpool following the closure of the Powell Park track in 2016," Ms Waller said.
The new Wylde BMX and Mountain Bike Facility is expected to be open by December 2021. The first five new mountain bike trails will be open to ride from Saturday 3 July, weather permitting.
MEDIA: Lindsay Banffy | Western Sydney Parklands | 0407 610 679